Skincare
Neostrata
https://www.genop.co.za/pages/skincare/medical-skincare/neostrata.php
Neostrata was developed by the dermatologists that created the first glycolic peel and who discovered the rejuvenating powers of alpha hydroxy acids (AHA) and polyhydroxy acids (PHA). This was one of the first products to be coined a 'cosmeceutical'. This advanced skin care range is clinically proven to visibly resurface, restore and refine the skin with products formulated to address specific skin needs. Independent clinical studies have demonstrated the benefits of NeoStrata in reversing visible signs of ageing.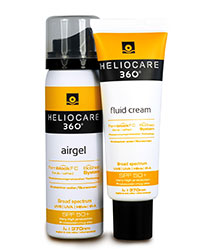 Sun Protection
Heliocare
https://www.genop.co.za/pages/skincare/medical-skincare/heliocare.php
Sun exposure is the major cause of skin ageing. It is therefore vital to protect your skin from the sun by using a quality sun protection product on a daily basis. In addition to ultraviolet A (UVA) and ultraviolet B (UVB) radiation, studies have shown that Infrared Radiation (IR-A) and High Energy visible light (HEV) also cause skin damage. Complete photo-protection is therefore absolutely essential, protecting the skin against all forms of sun radiation and thereby minimizing the likelihood of sunburn, sun spots, photo-ageing and skin cancer.
Heliocare provides an advanced range photo-protection with intense antioxidant benefit. The presence of roxisomes also helps repair damage to cellular and mitochondrial DNA. All products in the range are ultra-smooth, oil free and easy-to-apply.
When used with Heliocare Ultra Oral Capsules, the Heliocare range truly provides comprehensive protection inside and out.
These products have a NAPPI code, which means that the medical aid may reimburse the costs to the member, depending on the scheme and the level of cover.
Lamelle
Taking into consideration the signs of premature and normal ageing, Lamelle Research Laboratories set out to create the most powerful age correcting skin care range on the market.
The Dermaheal Range has been crafted using concentrations of Nobel Prize winning Growth Factors and offers the ultimate in anti-ageing and laser-free skin remodelling. As we age, our cell turnover becomes sluggish and new cell production decreases by over 50%.
Clarity Range
Complete solution to clear skin
A complete treatment offering of oral and topical acne therapy.

Up to an 88% improvement in inflammatory acne in 8 weeks. Patented Retinoid therapy.

The only topical acne cosmetic product with a retinoid acid ester for improved outcomes.

Synergistic approach to the treatment of problematic skin

​
Luminesce Range
Advanced Pigmentation Solutions
Inhibits 8 steps of the pigmentation pathway.

Maximum efficacy across the entire pigment pathway.

Patented pigment blocking peptides are combined with conventional skin brightening ingredients.

The most advanced pigmentation home programme.
Collagen Pro-Active - Liquid Collagen Complex
The concept of Wellness, Strength, Vitality and Beauty from within is rapidly gaining popularity in South Africa.
Collagen Pro-Active, with its unique, scientifically proven formulation, systemic stimulation of our body's Collagen.
Collagen is a vital protein present and used in most processes within the human body and is hence, the key component of the body's connective tissue, composing 30% of the total body proteins and 75% of the protein within our skin.
As we age and other physiological changes occur within us, the production of Collagen in general, decreases substantially, resulting in the obvious external changes in our skin's appearance as well as those we can't see: bone, joint and cartilage degeneration, markedly slower recovery after surgery or exercise induced or accidental injuries.
Sufficient quantities of Collagen, in an absorbable form - in order to maintain or increase Collagen production in the body - cannot be provided through the consumption of any foods. Hence the very real need for the daily supplementation of Collagen ProActive.
Clinical studies of Collagen Pro-Active have shown that the percentage bioavailability is more than 90%. Thus, supplying the body with high effective doses of Collagen.
Collagen Pro-Active is a unique dietary supplement of a premium Hydrolyzed Collagen, rich in specific amino acids that are easily absorbed by the human body. It contains Hydrolyzed Collagen (Type II) of high quality, enhanced with Vitamins B1, B2, B5, B6 & Magnesium.
It is available in 2 delicious flavors of Strawberry & Lemon. It is fat-free and completely safe without side effects.
Key benefits of daily Collagen Pro-Active use include:
a marked increase in the skin's elasticity, hydration and plumpness, resulting in visible reduction of the signs of Aging

enhanced hair growth and health & stronger, healthy nails

powerful antioxidant action

increased energy production thus significantly reducing tiredness and fatigue,

common in todays high-paced lifestyle

clinically proven, reduction in joint rigidity & pain and objectively increases cartilage

thickness and joint strength

increased performance in Sport and other recreational activities in Athletes as well as

those of who have a more sedentary lifestyle

improved recovery post Sporting or accidental injury
Clinical Studies/References:
(1) Dr. E. Meucci, M. C. Mele, Amino acids and plasma antioxidant capacity, 1997, Volume 12, Issue 3-4, pp 373-377.
(2) Arquel-Porcell, P. Pujol-Amat, 1996, Study on the action of a nutritional supplement that focuses on joint pain produced by osteoarthritis or joint aging in a population who regularly per- forms low-intensity exercise.
(3) J. Ll. Ribas, O. Molinero, 1998, Study on the effect of a nutritional supplement with gelatin hydrolysates that focuses on the prevention of sport injury.
(4) Morganti P, Randazzo S, Bruno C 1988: Oral treatment of skin dryness. Cosmet Toilet. 103 77-80
(5) Study of Food and Nutrition Research Depart- ment of New Jersey (1976)
Beauty benefits
Beneficial effect in the maintenance of skin firmness & elasticity

May function as a stimuli for fibroblasts to effect repair of damaged tissue

Improve skin's dryness and increase hydration

Contribute to the maintenance of skin elasticity & hydration

Contributes to the stimulatory effect of the Collagen biosynthesis in the body's tissue

Enhance Hair strength & appearance from 5% to 45%

Promote & enhances skin beauty

Contribute to the maintenance of normal skin tonicity

May help to fight against the visible signs of skin ageing
Joints and Bones benefits:
Contributes to decrease joint rigidity and mobility pain

Healthy function of joints

Contributes to increase the articular cartilage thickness of joints after physical activity
Reduces the risk of joint & cartilage injury & supports recovery time

Contributes to increase the cartilage mass

Promotes much easier sports and recreational activity

Affect the size of the collagen fibrils in the tendon & may improve the mechanical properties of tendons
Sports and Post injury benefits:
Helps in the reduction of tiredness and fatigue through Vitamin B5, common in today's high-paced lifestyle

Contributes to a growth in muscle mass through protein

Reduces the risk of joint & cartilage injury & supports recovery time after physical activity

Improves performance in sports and/or other recreational activities